The Rocky Horror Picture Show
was originally released in 1975 as a film adaptation of Richard O'Brien's stage show
The Rocky Horror Show.
This film tells the tale of a newly engaged couple, Brad and Janet, who intend to go tell the professor who introduced the two of them this exciting news. A flat tire and a castle full of strange people result in a journey they'll never forget. To say the least, this is one of the most interesting adaptations of
Frankenstein
to date. Since its release, the film has achieved cult status with countless midnight showings and reenactments over the years that continue to this day. There have been talks of a re-imagining by Fox Studios for quite some time, and it is finally premiering October of this year.
Several things about this remake tell me that it indeed looks promising as a tribute to the original. Lou Adler, the original producer, is returning to co-produce
Rocky Horror
along with Kenny Ortega (
Hocus Pocus
) and Gail Berman (
Buffy the Vampire Slayer
,
Angel
, contributed to
Firefly
). The involvement of people who were crucial to the original work is generally a good sign, right? Speaking of
the
original, Tim Curry, AKA Dr. Frank N. Furter in the 1975 film, returns to the screen as The Criminologist. Frank was such an iconic role for Curry, I can't imagine he'd want to be involved in a film that doesn't do the original
RHPS
legacy justice.
1. Fishnets, Glitter, and Leather
The original film's costuming had an influence on punk fashion and beyond. I really don't want the costumes in this "modern re-imagining" to look tacky. Yes, I understand being slightly cheesy is in the grand tradition of
RHPS
, but there is a line to be drawn. So far I'm not as nervous as I was initially. For reference, here's a comparison of the character Columbia (a groupie... aka the 1975 version of a fangirl).
Of course, any list of my desires regarding a remake of
RHPS
would be absolutely barren without taking a minute to discuss the soundtrack. Let me introduce, if I may, *cue criminologist voice* a song that you've probably heard at a wedding or a school dance even if you've never heard of
Rocky Horror
before.
Although the rest of the soundtrack is sprinkled through modern pop culture, Time Warp is arguably the most recognizable track. I'd also like to mention that Meat Loaf's career got a kick start due to his feature as Eddie in this film. His involvement in Rocky Horror Picture Show influenced the sound of some of his later work. In the remake, Eddie is set to be portrayed by the one and only Adam Lambert. I'll let you in on a secret: I love Adam Lambert. He's quirky, theatrical, and absolutely loves the source material that the original film provides. This gives me great hope that the revived soundtrack could indeed be a wonderful tribute as well as provide an original twist to keep things interesting.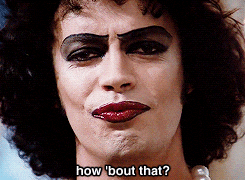 3. A Continuation of the Legacy
Seeing as this film is just over 40 years old, it's safe to say that the fact that we're getting a Rocky Horror Picture Show remake in the first place shows that it already has quite the legacy. Glee themed an episode around the controversy regarding a school production of RHPS. The Perks of Being a Wallflower (both film and novel) featured the revival and continuation midnight showings and reenactments seen in the 1990s and early 2000s. Most parents and grandparents that came of age in the 1970s and 1980s have some recollection of participating in a midnight showing or two. To explain my reference to midnight showings, as an initial release Rocky Horror didn't fare well; after that it reached a cult following as the film was shown at midnight along with people reenacting the film as it played with a lot of audience participation.
I've never been able to attend as most weekly midnight showings dried up by the time I was of age to take part. A local theater shows the film every Halloween, and I hope to finally participate this year. My hope is that this remake kindles an interest in theater as well as b-films in a new generation. I also hope that tradition is continued and most of all that people take this as an opportunity to let loose and reminisce with their families about their memories of the original film. Here's a teaser for the remake.
What are your hopes for this remake?