A clown fish named Marlin [who] lives in the Great Barrier Reef loses his son, Nemo. After he ventures into the open sea, despite his father's constant warnings about many of the ocean's dangers. Nemo is abducted by a boat and netted up and sent to a dentist's office in Sydney. So, while Marlin ventures off to try to retrieve Nemo, Marlin meets a fish named Dory, a blue tang suffering from short-term memory loss. The companions travel a great distance, encountering various dangerous sea creatures such as sharks, angler fish and jellyfish, in order to rescue Nemo from the dentist's office, which is situated by Sydney Harbor. While the two are doing this, Nemo and the other sea animals in the dentist's fish tank plot a way to return to Sydney Harbor to live their lives free again. - IMDb
Story

The story begins with Marlin, a clown fish, struggling to parent his son. Because of the brutal murder of his wife and other eggs, he is hesitant to let his child go to school and be without him. Nemo is tired of his father's constant nagging and decides to accept a dare to touch "the butt," a fishing boat past the edge of the reef. Nemo is caught by fisherman and taken to a fish tank. Marlin chases after the boat but isn't fast enough to get there. On the way, he runs into a forgetful fish named Dory who offers to help him find his son. This story is very interesting and entertaining. The struggles of the characters feel real to the viewer. Plus, plenty of humor keeps the movie funny and lighthearted.
Visuals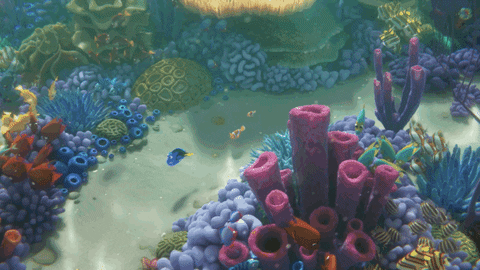 This movie has some of the best animation out of all the Pixar movies ever made. It was so stellar that even Pixar movies released later paled in comparison. It felt like I was really underwater. Lovely colors, lighting, and shading made this movie so great. (It also won an Oscar, so that should tell you something.)
Acting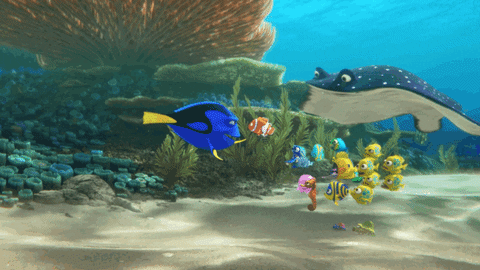 The acting in this film was spot on. Albert Brooks (Marlin) really made the viewers connect to his character. I feel like a lot of parents were able to empathize with him, which is key for a good movie. I bet no parent went into the theaters expecting to empathize with a fish. Ellen DeGeneres was born to play Dory. No one could have played her better. Her performance was funny, original, and realistic. I loved it. I was really pleased with Alexander Gould's performance as Nemo. I find that often child actors aren't actually very good at acting. You can't expect them to be at their age with no training, but it would still be nice to have good actors. This movie did not leave me with such a feeling. Pixar is always really good at instructing young actors.
Final Rating
Finding Nemo is an instant classic. Everyone can watch it and find something they like about it. Every time you watch, you'll find something different you hadn't noticed before. That is the mark of a true classic.
Bonus gif: