With so many video games available, it may be hard to pick one. This post suggests three games which every fangirl should play--each one for a different type of player and game style preference.
The Witcher 3: Wild Hunt - PlayStation 4, Xbox One, Microsoft Windows
This is a must have for any fan of fantasy and RPGs, plus the original book series. This game is single-player only.
Why I recommend it
: Not only are the graphics wonderful, but the story is incredible. The story really draws you in and cannot be boring, thanks to numerous plot twists.
The variety of plants, which you can use to make an even larger variety of potions, is mind blowing: the developers have not only put great effort in creating a realistic environment and a great story but also a world which does not lack lore (taken from the book series, too) and has many ways of being played.
Each weapon is unique: not only because of different types of swords or axes but also because special items may modify them, allowing each player to create the perfect blade for Geralt. No two swords can be the same in this game.
The game offers all sorts of surprises; nothing is ever the way it seems. Just when you think you're closer to the end of a mission or one step from finishing the game, the characters will reveal a new piece of information, which will change everything.
The game doesn't really end. As of March 12th, the developers have released a DLC called "Hearts of Stone" and plan on releasing one named "Blood and Wine" soon.
Why I bought it:
I had heard a lot about it and had seen several gameplays, which had interested me because of the complex story and long gameplay hours. The main reason why I bought it was the open-world map and the high amount of hours I could play it.
Star Wars: Battlefront - PlayStation 4, Xbox One, Microsoft Windows
Unlike the other two games on this list, Star Wars: Battlefront does not have a story--it's a shooter. The reason why it's on this list is because Star Wars is loved by so many people and this game just drops you into the same galaxy far far away. Do keep in mind that the game is not as enjoyable without internet connection and as a consequence, multiplayer.
Why I recommend it:
Break free from the usual Call of Duty and Battlefield games with their realistic locations and guns and fight for the Empire or the Rebels. The game has abundant maps from the actual movies such as Tatooine, Endor and Hoth. The guns are also precisely recreated to match the ones from the movies; as I rewatched Episode IV, I noticed that right in the first scene the guns used by the Stormtroopers are present in the game.
As if that weren't enough, the game allows you to play with heroes and villains. Have you ever wanted to become Boba Fett or Han Solo? The game offers six special characters, each with three unique abilities. Some maps also include X-wings, TIE fighters and AT-AT--something unique which makes the game even more special.
Why I bought it:
It's a Star Wars shooter, why wouldn't I buy it? Most of the things I have already mentioned convinced me to buy the game, but I also wanted a multiplayer game and didn't have one. The thing that really interested me, though, was that I would get the chance to play in a Star Wars environment--that's why I bought the game, in the end.
The Last of Us - PlayStation 4, PlayStation 3
This game is not one of those open-world games, which are now popular; it focuses on the story and environment rather than exploration itself. It reminds me of a book with a single plot and one way to reach it, through many bumps.
Why I recommend it:
The Last of Us isn't an open world game nor is it brand new or for all game platforms. It's a zombie game, but it isn't simply a shoot-the-zombies-without-a-real-plot game. This game has a better screenplay than many movies--the way the characters change is incredible. While you can't tell that these changes are happening, once you look back, the differences are easy to find. The story is so intriguing and addictive. I kept going on because I wanted to find out what was going to happen next, and oh my was the ending surprising.
My favourite thing about the game, however, is the interaction between the two main characters. Ellie and Joel develop such a complex relationship, based not only on survival but also on their need for each other in a sentimental way.
With this game, you'll enjoy 15 to 20 game hours on normal difficulty and an emotional roller coaster. Whether or not you like zombies (or get scared easily, like me), this game will keep you entertained.
Why I bought it:
My uncle had recommended the game, so I had played it a little and enjoyed it enormously. The story was the main reason for which I bought it, as the whole concept of a zombie epidemic and such a young character appealed to me. The PS4 edition is remastered, meaning the graphics are slightly better, and the DLC about Ellie is included--the deal was too good to refuse.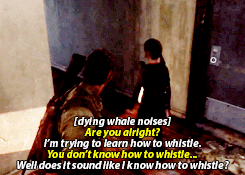 Have you played any of these games? What games are on your "must play" list?