It's a truth universally acknowledged that everybody likes dinosaurs. How could you not like the idea of dusty bones--fossils--once being living, breathing "terrible lizards?" Whether it was through fossils in a museum, legends of "monsters" or dragons that span the globe, or even pop culture references, everybody has been introduced to the concept of dinosaurs and the mysteries their petrified bones hold.
This coming weekend,
Jurassic World
releases in theaters and opens the park to a whole new world of dinosaurs. The origin tale,
Jurassic Park
, breathed life to the possibility of bringing back dinosaurs to the modern world. The new film promises such possibilities again only with a successful park and a ticket for one exciting ride.
Here at
The Fangirl Initiative
, we're pretty excited to enter the park, so we've gathered together to talk about our favorite dinosaurs and why they would make great pets (you know, in case they do ever bring back dinosaurs. Even though there's now four movies that give good reason why "that's a very, very bad idea").
So let's go back to prehistoric times...
Jaime's Dinosaur
I would want to have a Tyrannosaurus Rex as a pet. One would pretty much have to quit everything else in one's life to take care of it, but come on, who doesn't want to quit everything and become a dinosaur caretaker? Besides, Tyrannosaurs are completely adorable. The first thing I would train my pet Tyrannosaur to do is to play the ukulele.
I've always been fascinated with dinosaurs. I don't know how many hours I spent as a kid, reading everything from 'Dino ABC' to books on fossils. I would draw them, trace them, ask for dinosaur toys (you could often find an ankylosaurus in the pen with my Breyer horses) - these huge, majestic lizards always fascinated me. However, I'm not necessarily going to talk about a real dinosaur; I'm going to talk about one we all know and love, even if we didn't grow up as aspiring paleontologists.
I'm going to talk about Godzilla. In his most recent movie, we saw Godzilla turned on his head – the incredible, fire-breathing monster was not our enemy, for the first time. In fact, he was a rescuer; saving potential millions (and causing a lot of economical damage which we can forgive because hey, he's awesome and he was helping).
Face it – Godzilla would make the world's most freakishly awesome pet. Why? I'll tell you.
1. He would be the best guard-animal you could find. Someone tries to break into your house? Well, Godzilla would crush the house – and the burglar – flat. Problem solved.
2. Out of matches? Need a light? Want to barbeque? Have graham crackers, marshmallows, and chocolate – but no fire? Fear not – Godzilla would light up half the country, and voila – you'd have the best smore's around.
3. You couldn't have a safer seeing-eye pet. If you were disabled, you could feasibly build a moving home on top of Godzilla and never be in danger. Traffic? No longer a problem.
4. Visiting family and friends would be that much easier. Why bother booking a plane ticket when your loved ones are literally a hop, skip and a jump away?
5. He kicks gluteus maximus. You need no other reason.
Sarah's Dinosaur
I know, you're shaking your head and saying, "Sarah, the Loch Ness monster is a myth." I beg to differ. After all, we know the plesiosaurs existed, and the common belief is that the Loch Ness was really a surviving descendant of said dinosaur. So basically, the Loch Ness is the nicknamed grandchild of the Plesiosaurus… and therefore, the Loch Ness could be real. I say it is real, and it's a Plesiosaurs. Now that we've cleared up any doubts as to the legitimacy of the Loch Ness (or Nessie, as I prefer to say) being a dinosaur, here are a few reasons why this is my favorite dinosaur, and also one I'd choose as a pet.
Rica's Dinosaur
PARASAURALOPHUS
Pair-a-sore-olla-fuss
For a long time, my favorite dinosaur was probably a hadrosaur (you may know them as the "duck-bills" in
The Land Before Time
).
My main reason for the choice was threefold:
1. They're herbivores. If I had one for a pet, it wouldn't eat me.
2. They're semi-aquatic. If I rode my dinosaur, we would be able to travel by land and water.
3. They're a combination of biped and quadruped. That means that, unlike the slightly unbalanced T-Rex…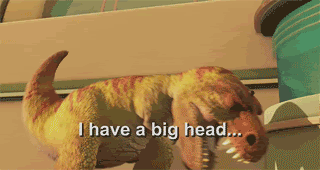 …they can walk both on two legs or all fours, which would allow me to ride my pet either like a horse or a tauntaun (the furry llama-things ridden on Hoth by Han Solo and Luke Skywalker in
The Empire Strikes Back
). And that's just cool.
However, while browsing a through a library book on unique dinosaurs, I found Parasaurolophus ("Pair-a-sore-olla-fuss"). It's nearly identical to hadrosaurs physically, but with one main exception: the bony crest on its head is actually hollow and connected to its nostrils, which means that parasaurolophus very likely could have made 'music' by exhaling at various speeds! Some paleontologists have even made 3-D models of the skulls and experimented by sending air through the horn at different pressures. The results are eerily breathtaking (and, I am not ashamed to admit, are now on my iPod)!
[There are multiple videos featuring parasaurolophus sounds, but this one is my favorite because it mixes in rain sounds and makes the dinosaur's call sound as if it's really coming from the wild.]
Admittedly, the
Jurassic Park
films have tried to take part in the idea of 'musical' dinosaurs, too. They featured the 'singing' brachiosaurus in the first film, and involved the 3-D printed model of a raptor's vocal cavity in
Jurassic Park III
. But those were both fictional creations, meant to enchant an audience rather than adhere to scientific findings. Parasaurolophus is the real deal!
What's your favorite dinosaur and why? Which dinosaur do you think would make the best pet? We'd love to hear about your favorite dinosaurs.